From left to right: Alber Elbaz, Giorgio Armani,Vivienne Westwood, Karl Lagerfeld & Donatella Versace


Nail art by Georgia-Rose Fairman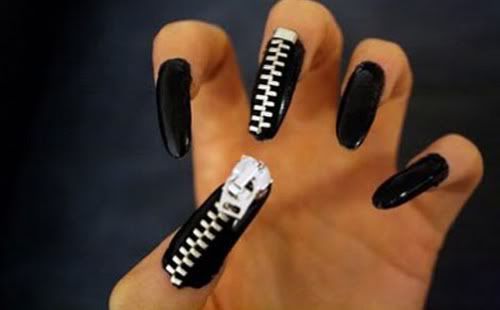 Zipper nails by Laura Sofia Koski


Solo quería compartir estos diseños de uñas con ustedes. ¿Qué piensan de ellos? Locos, ¿verdad?
El primero fue hecho por Georgia-Rose Fairman, este diseño apareció en Vogue (UK) ;al ver esa fotografía pude reconocer con facilidad a los diseñadores que aparecen en las uñas, especialmente a Karl Lagerfeld :).
El segundo fue hecho por Laura Sofiakoski, ¿Notaron que el cierre no está pintado? ¡Es uno de verdad!
Ambos diseños son muy originales ¿Cual les gusta más?
-----------------------------------------------------------------------------------
I just wanted to share these nail designs with you. What do you think about them? Crazy, right?
The first one was made by Georgia-Rose Fairman, this design was featured in vogue (UK); when I saw that picture I could easily recognize the fashion designers, especially Karl Lagerfeld :)
The second one was made by Laura Sofia Koski, did you realize the zipper is not painted? It´s a real one!
Both of them are really original! Which one do you like more?